BEAR SCARE AND NEWS UPDATE
Wow…where have I been?! My time here at DA this summer has been very limited due to "life". The move of my youngest daughter and family from Alaska to the east coast, has consumed much of my time for the last 6 weeks.

Hopefully I'm going to be able to be back more often now.

THE CARPAL TUNNEL
I'm still very much limited in my ability to leave comments due to the CT - which has been driving me nuts recently. It can take 3 days for me to get a journal prepared. There is so much else at DA I would like to do such as contests and groups but I can't because of it. Sometimes I can't hold a phone with my rt. hand. Just the tapping on the laptop pad to do a lot of favs can get difficult, but I DO view all your beautiful work! I'm just sorry I can't comment often.

I work mostly with my left hand – and I'm rt. handed – but have to limit that so I don't develop CT in my left hand. Very frustrating. I'm NOT looking for sympathy, just catching you up.

ART & PHOTOGRAPHY
I am still doing photography instead of fractals - which I miss very much! The demands on my hands are much less and artistic elements come into play when composing and framing/capturing the most artistic, pleasing scene - using my eyes and learning how to better use the camera with the brain. I'm still working on that! There's much to learn! Photography for me is about getting out away from civilization in Alaska (there's not very much of that here anyway) and photographing the stunning scenery I am so lucky to be able to live among and to experience. When I say "away from civilization" it's very different getting away here than the rest of the U.S. There are no gas stations/convenience stores every few miles or houses or businesses, no buildings, no signs….nothing but scenery to photograph - just the way I love it! Sometimes the nearest hospital to me is 80 miles or more away, so I try to not get injured and always carry a first aid kit! Much of the time…there is nothing….but stunning scenery and wild animals!
WEATHER
It has been difficult to get out for much of the summer. We have had so much rain and cloudy/cool weather this summer – 31 days straight of some rain – that when the sun finally popped out, I took off and did 5 road trips in 15 days! We have to soak up that sun before our long, dark days of winter! I will be posting a lot of photos; some just travelog photos and others that I think are quite good.

I don't mean to fill your in-boxes - I just want to share the beauty of where I live with you.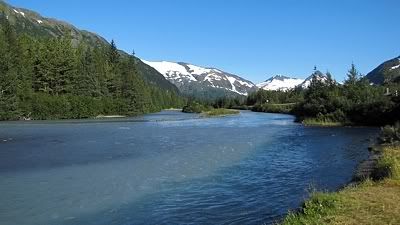 Portage Creek - upriver where I was standing with the bear across the road behind me.THE BEAR STORY
About a week ago I took off and drove to Portage Valley, around 50 miles from here turning off the two-lane "highway" and driving up the valley on a small two-lane road to Portage Lake for a few photos. School is back in session and most of the tourists are gone so there was almost no traffic. In the early 70's I could see Portage Glacier from the lake's edge, and there were huge icebergs floating that you could reach out and touch in the lake in summer. (I must find my photo taken in the 70's) Now the glacier has retreated so much that one must take a small cruise boat all the way across the lake and up and around the bend to see the glacier. In summer now - one very rarely sees an iceberg way across the lake from the small visitor center at the lake's edge. Still, it's a very pretty place to see and photograph.
After some photos there I turned around and drove about 2 miles back down the little road, and stopped where there was a small clearing to get to the river for photos. (it's actually called Portage Creek) There was not a place to park, but so few vehicles that I pulled over on to the tiny shoulder of the road and parked my car on a bit of a slant downhill. I zigzagged down a fairly steep 25-foot embankment to where it flattened out by the river's edge, about 7 feet wide. As I stood there I noticed a salmon running up the rapid water – no photo of it since it happened so fast. Strange thing is….I've lived here 40 years and that river is so silty from the glacial silt that I never knew there were salmon in it! I then proceeded to snap photos of the breath-taking scenery both up river and down river.
I'd been there about 10 minutes and seen no cars, when I heard a voice yell loudly, "Ma'm!! I turned and looked up the hill toward the road to see the top half of a truck and a man in it. He said,
Ma'm……there's a black bear across the road from you
!! (the truck then left!) My first thought was more irritation than fear - I hadn't spend almost 11 years surviving Lymphoma, to become a "bear snack" now – in the middle of nowhere so I had to keep my wits about me!!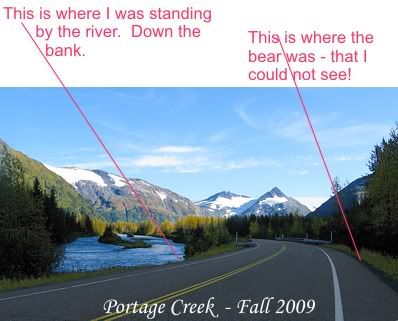 I bolted rapidly
straight up
the steep embankment. (the one I'd had to zigzag down to keep from falling) staying down behind my car so the bear at least, could not see me. I got to the passenger side window - the car was at such a slant that even if I had opened that door – which would have smacked me in the face - I would not have been able to close the door on that side. I quickly popped my head up to see if I could safely run around the front of my car and jump in. (I ALWAYS carry my car key on a springy-thingy on my upper arm and I had my bear spray on my belt but I preferred not to be in a position where I had to use it!)
All I could see as I peered through the windows (because I was still standing on a steep down-slope) was a narrow view of the very dense brush/trees across the road. I had my bear spray on my belt, so I crept to a point where I could see around the hood of the car and saw that the bear had retreated from the road back into the dense brush, probably still watching me! I made a beeline for the driver's door, key in hand and jumped in! Only after I was safely in the car, did I think about the fact that the bear was probably headed down that slope to the river for the salmon and if that truck hadn't come along….I would have been between the bear and a river with fish!! Now…..being between a bear and a river with salmon in it…. with no one around…..is NOT where you want to be, I can assure you -!!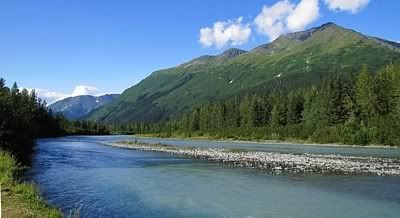 Portage Creek - downriver where I was standing with the bear across the road behind me.
Was I afraid? Actually, it was more like, "Oh crap…you have no time to be afraid, not now because there's no one around for help…keep your head about you! There was a bit of anxiety but I remained calm. Moral of the story - don't go to a river when you are alone and there are salmon that are running in it – and ALWAYS carry bear spray (I do) if you are in Alaska and are 5 miles out of town! Actually, I even carry it in town when I walk! In Alaska, there has never been a record of anyone who was carrying bear spray, being seriously injured and in fact it saved someone's life in town just this summer! However, I was NOT at all interested in testing that safety record out!! Though I didn't get a photo of the bear – which is just fine by me – I will be posting some photos I took on this trip in the beautiful Portage Valley.

No snack for the bear this time!
I hope you all are enjoying what is left of your summer!
Hugzzzzzzzzzzzzzz,
Anita