ART THEFT TASK FORCE PAGE UP!
[link]
DOES DEVIANTART OWN MY ART?
"The Submission Agreement explicitly states that you, as the original artist, retain any and all rights appropriate to your artwork at all times. These rights include, but are not limited to, the full and exclusive copyrights to your original artwork. By agreeing to the Submission Agreement what you are really doing is granting deviantART the basic permissions we need in order to display, showcase, and make your artwork available to viewers using the various on-site systems and tools.

At no time do you lose ownership or any of the exclusive copyrights granted to you by law on any deviation or scrapbook submission which you make to deviantART

DeviantART will not use your work for any project without first consulting you and obtaining your consent."
[link]
*****************************************************
DEB'S GALLERY

******************************************************
RIPPED ART AND COPYRIGHT ISSUESINFO LINKS ETC. ON ART THEFT & COPYRIGHT ISSUES
FROM deviantART FAQ POLICIES:
Can I just take deviantART submissions and use them elsewhere?
All original submissions to deviantART are considered the copyrighted property of the submitting artist.

If you desire to use, repost, or otherwise redistribute a deviantART submission you will need to contact each individual artist and obtain a legal license or other permission to use their property.

Please do not contact deviantART directly for this legal license as we do not have the ability to grant such a permission.

Some submissions may be governed by a Creative Commons license which grants permissions under certain conditions. These submissions are specially marked.

Some users may have enabled the use or our Embed or Blog This features which function as a controlled means of displaying their work without needing to directly contact them. These features are explained elsewhere in this FAQ.
[link]
******************************************************
A BIG thanks to Deb for alerting me to more of my work stolen without permission and offered for download, without any credit to the artist (me). Here's the link to her journal of July 5th.....PLEASE go read it...she has listed links to stolen work of many DA artists!
DWALKERS1047's journal on ripped art

[link]
laurengary's journal on ripped art

[link]
SITE CONTACT INFO FOR COPYRIGHT VIOLATIONS
PHOTOBUCKET
[link]
LINKS TO:PLAGIARISM TODAY'S ARTICLE ABOUT DA ART THEFT
[link]
WHAT IS PUBLIC DOMAIN?
[link]
STARVING ARTISTS LAW
[link]
US COPYRIGHT OFFICE – COPYRIGHTING ONLINE WORK
[link]
WHAT TO DO WHEN YOUR ART IS RIPPED
-
a must read
Lorelle WordPress
[link]
INTERNET IMAGE USE LAW
Attorney Ann Andres
[link]
SEARCH ENGINES INDEXING OF ONLINE ART – SCARY!
Stock Photo Talk
[link]
*****************************************************
MY RIPPED ART DEB ALERTED ME TO JULY 5TH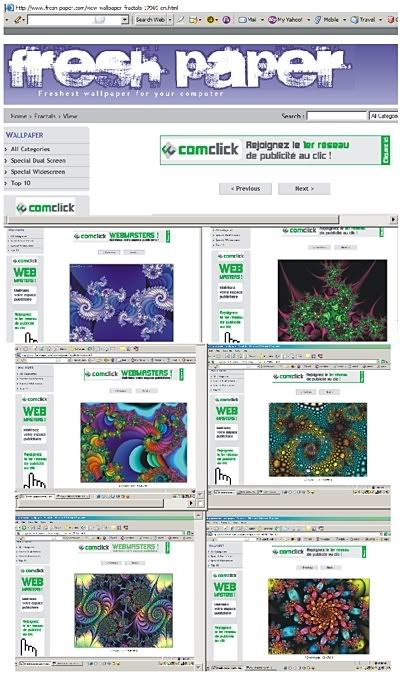 Flattering to have your work stolen?? I think not! Would you considering it flattering if someone stole your diamond ring? (yes, I realize my work is not worth diamonds...yet!) I KNOW that it will be taken and show up on the net and I can't police the whole net nor can I afford an attorney to go after everyone.
I CAN watermark - which makes it harder and less attractive to steal....kinda like locking your door...people will still break into houses....but many of them will move on to an unlocked door first....it's a LOT easier! I HATE watermarking.....as I stated in an earlier post to one of Deb's polls on the subject.
Occasionally artists here at DA are contacted by companies who are willing to pay for the use of an art work of theirs (yes a fractal artist was contacted) and why would they want to pay....if they should discover that art work all over the net for free download??
I'm not going to lose sleep over it or let it raise my blood pressure....but I will do what I can....to help LOWER the theft of art here...and elsewhere.....and I frankly think that DA should have a stronger statement....on the front page of their site!
Below are only a some of the examples of my work that has been ripped without my permission. More to follow........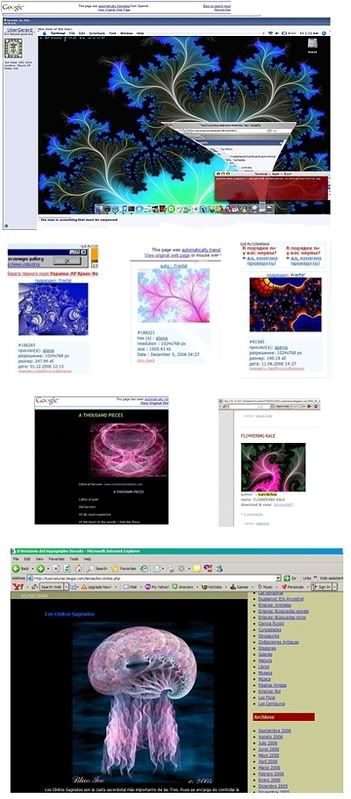 ***************************************************
Links to the Creative Commons licensing site.

I STRONGLY suggest you go to their site and read this if you have been using the Creative Commons selection, when submitting your art! I am re-thinking my use of this CC license.
[link]
I emailed the Creative Commons website and they explained the circumstances under which I could include text from their website.
Here is an excerpt from their site that I think everyone who uses this...should read:
BASELINE RIGHTS AND RESTRICTIONS IN ALL LICENSES
..."All Creative Commons licenses have many important features in common. Every license will help you retain your copyright
announce that other people's fair use, first sale, and free expression rights are not affected by the license.
Every license requires licensees
to get your permission to do any of the things you choose to restrict — e.g., make a commercial use, create a derivative work;
to keep any copyright notice intact on all copies of your work;
to link to your license from copies of the work;
not to alter the terms of the license
not to use technology to restrict other licensees' lawful uses of the work
Every license allows licensees, provided they live up to your conditions,
to copy the work
to distribute it
to display or perform it publicly
to make digital public performances of it (e.g., webcasting)
to shift the work into another format as a verbatim copy
Every license
applies worldwide
lasts for the duration of the work's copyright
is not revocable
Note that this list of features does not apply to the Public Domain Dedication, our Sampling Licenses, or Founder's Copyright...."
The previous text is from the Creative Commons website:
[link]
**************************************************
Crystal Cave - DeviantArt Daily Deviation for 12/31/06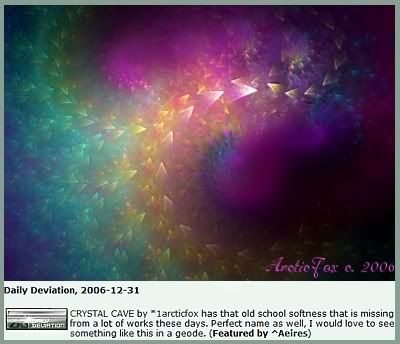 TOP 10 FRACTAL ARTISTS
[link]


Sandi's Oibyrds DDs:
[link]